viewneo Software
Cloud-based content management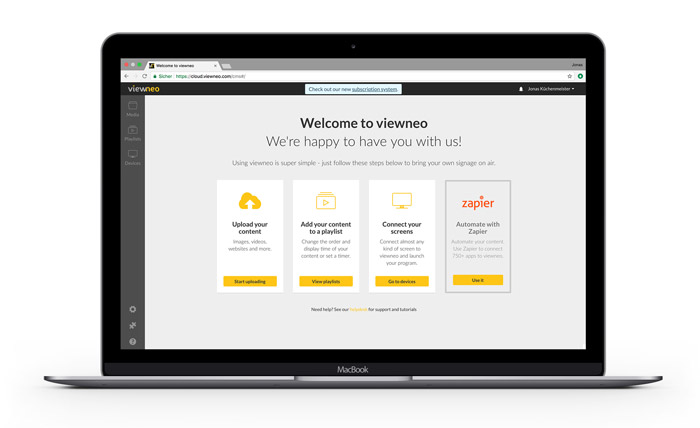 viewneo is cloud-based, which means there is no need to install any software in order to control the content on your screens. The Content Management System (CMS) of viewneo can be found at: https://cloud.viewneo.com. All you need is a browser to control the content on the screens, create playlists, and upload media.
User Account
To use the Content Management System, you need to set up an account with viewneo. In the section Create user account, you can find additional information on how to register for a free trial.
Recommended browsers
While viewneo can be used with most common browsers, we recommend using Google Chrome. Our experience shows that our users experience fewer problems with Google Chrome after system updates.
Recommended Browser List
Firefox (from version 10.1)
Chrome (from version 49)
Safari (from version 10.1)
Opera (from version 50)
Internet Explorer (from version 11)
Using mobile devices to manage your viewneo content is not recommended.. Since the majority of viewneo users do their work in the Content Management System (CMS) with a notebook or PC, the web-based CMS is not optimized for mobile devices, such as smartphones, tablet PCs, iPads, etc. Due to this, we do not recommend using mobile devices as your only way of operating the content management system.