Website Interaction Plugin
Get more information on how to unlock Plugins here.
Plugin Properties
The viewneo Website Interaction Plugin is for anyone who wants to use touch screens and offline communication with their online presence.
Plugin Advantages
With the website interaction Plugin and a touch-enabled screen, you can now complement your playlist with interactive web content. When a visitor touches a display, it has the effect of interrupting the playlist and switching to a stored interactive website. If the screen remains untouched, then it revert back to the previous playlist.
How to Use the Plugin
The first step to using the device with the possibility of interaction is to create the appropriate content (website) and then place it into your media library. You can find additional information on how to create website content here. The next step is to pull up the "advanced settings" of a device or device group. Here you will find the setting option "Interaction".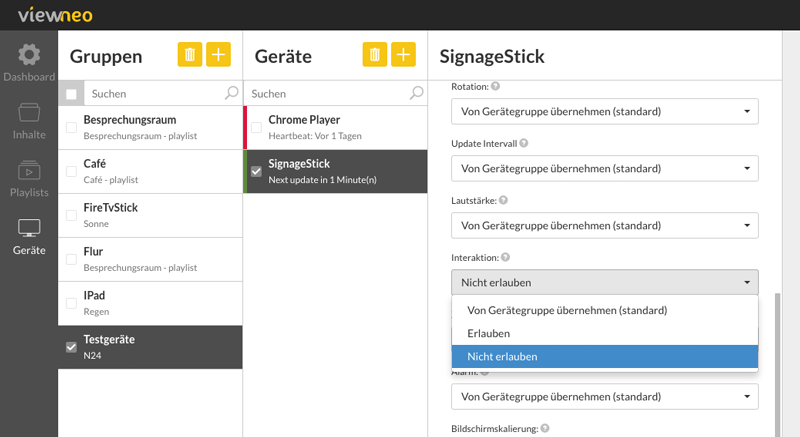 When you select the "allow" option, the menu will automatically expand to the settings of the website and the time span it should be open without interaction, so called "back (in sec.)". The drop-down menu of the website will now list all of the webpage content which is stored in the media library. The set time determines the duration of time when there is no input, before it returns to the previous playlist.