viewneo Butler
Why viewneo Butler?
This video by Stockholm's Akestam Holst is a good illustration of how digital content can interact with the real world. In this example, the hair of the woman on the display is swirled by the wind as the train enters the station. For the Swedish agency that implemented this project, there was no finished product that could be used. Instead they had to combine a variety of individual hardware and software solutions to meet their needs. Even though prototyping has been becoming easier thanks to Arduino & Co., it's still not easy to implement these type of projects. The only folks able to take advantage of this technology has been creative thinkers, savvy hobbyists, and those who can afford to hire an advertising agency.
With the IoT modular system viewneo Butler, such installations can be carried out for the first time without extensive technical expertise. Digital Signage players have become devices that are able to communicate with each other over the Internet. The proliferation of sensors and actuators will help to make the implementation of campaigns like those shown in the video more readily available to the SME market. Affordable and easy to implement, it just needs your creative touch
Content Driven Event & Event Driven Content
Content such as pictures or videos can influence the environment by highlighting an event (content driven events) or sensors can capture data from outside the monitor (as seen in the video) and a Digital Signage players is able to respond (event driven content).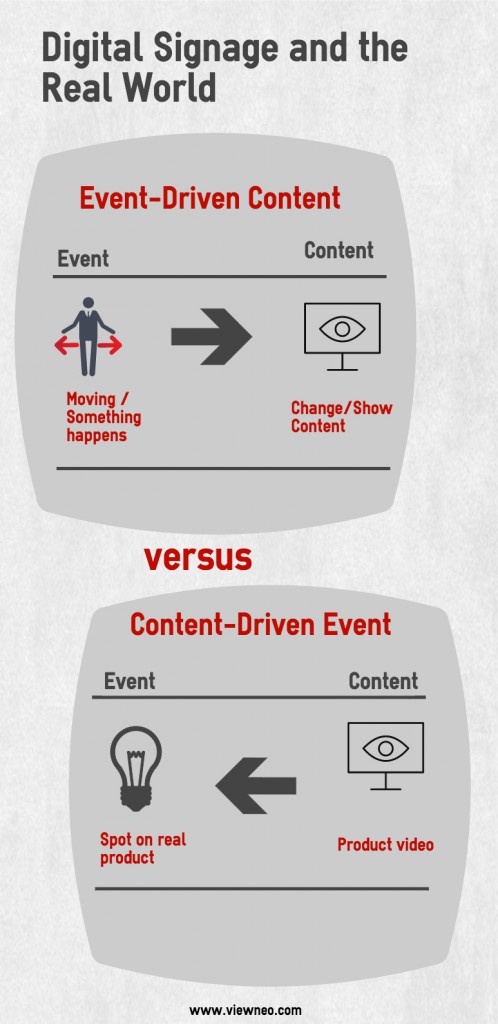 Here you will find more information on how to setup the viewneo Butler system.